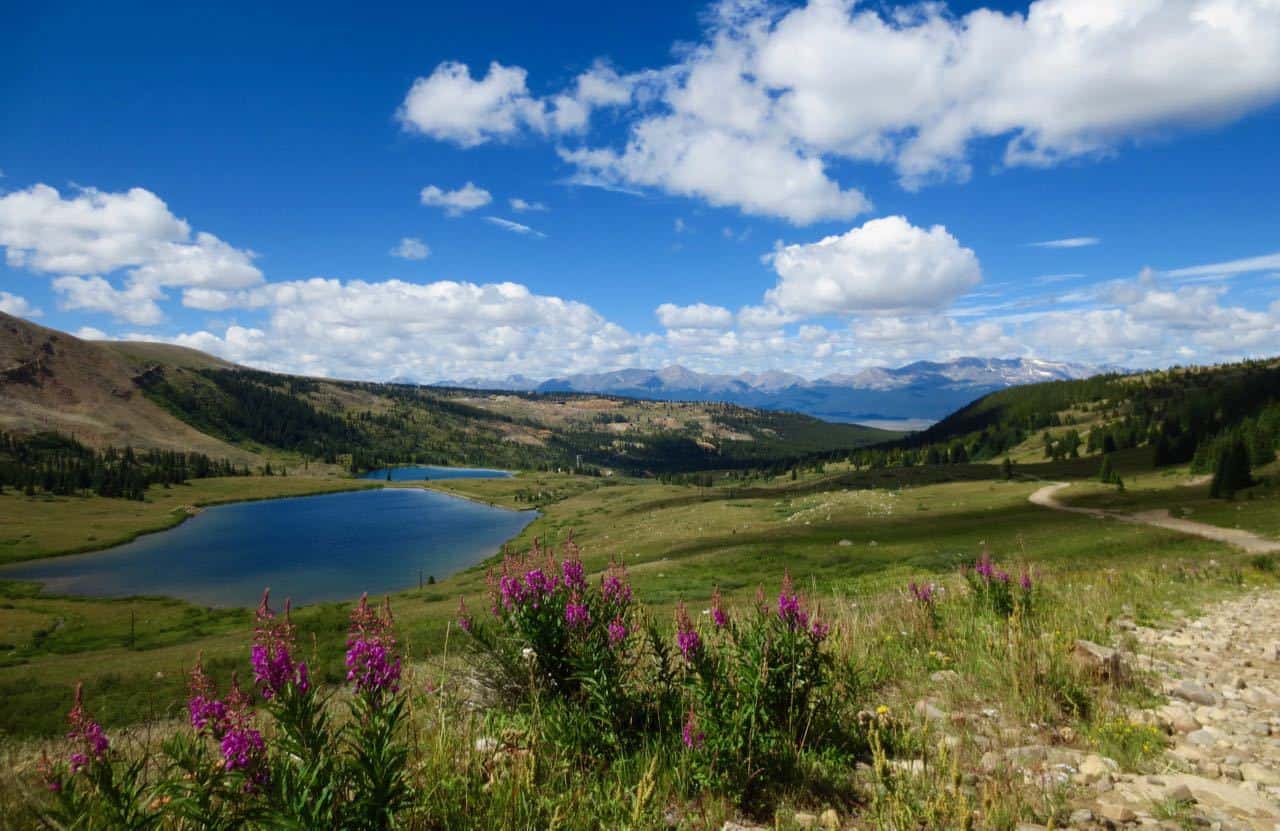 There is something about the idea of llamas carrying your soup up Hope Pass that makes you want to do Leadville. Yes, you'll also get a nice-looking buckle, but seeing llamas as you are coming up that mountain, knowing they carried all supplies for you? Way cooler. I've been dreaming of owning a llama ever since.
Learn more about Leadville, its history and how to prepare from 2016 RD Josh Colley (Interview Aug. '16):
I was scared of running the Leadville Trail 100, or more precisely, of failing spectacularly. At 30 hours, it's a tight cut-off for a high-altitude race, which contributes to only about half of participants finishing each year. I also didn't have a crew or pacers, and didn't know anyone who was doing the race. As I stepped out of the bus, dragging my suitcase to the Leadville Hostel, I could hardly breathe. I'd flown in from sea level Australia, and Leadville at 3,094 metres altitude is quite a jump. Two weeks to acclimatise – would it be enough?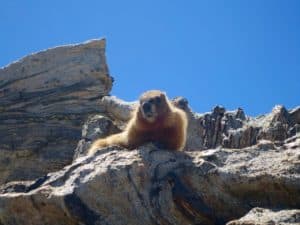 The first three days I rested up, and then started hiking up Mosquito Pass, followed by Mt. Massive at 4,400 m with Badwater finisher and fellow hostel guest Otto Lam, who was doing (and completed!) the Grand Slam of Ultrarunning. Otto told me stories about a 200 mile race where he had mismanaged food intake and lost orientation, walking around in circles while vomiting. I felt already pretty woozy at the idea of half that distance at this altitude, and struggled the higher we climbed above treeline. But Otto reminded me that we were now higher than the highest point in the race, and that felt good. Hopefully my body would start making red blood cells like crazy and Hope Pass at over 3,800 m wouldn't feel like a death march on race day. On top of Mt. Massive, we were greeted by mountain goats and lazy marmots that couldn't be bothered moving from their sunny spots, no matter how close we came.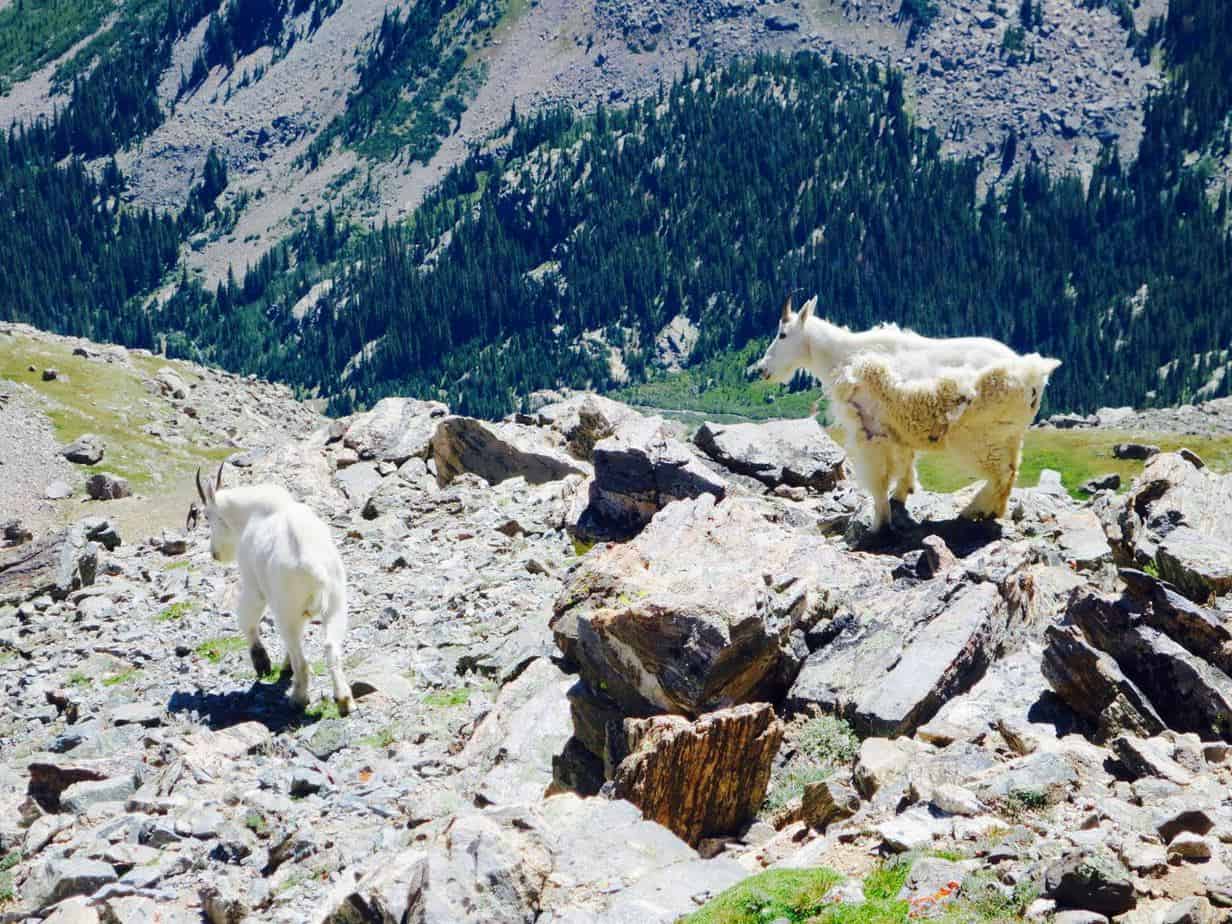 Little turquoise mountain lakes sparkled below us, and the alpine landscape stretched into the horizon.
At the hostel, we discussed splits. I like splits as they divide a huge distance into many short goals, but guessing splits for an unfamiliar course is hard. While researching online, I had hit gold – a website called climbers.net had combined different finisher times, averaged them out and developed an online tool to calculate likely splits depending on the targeted finishing time. Dragging the slider to the intended finishing time generated splits for all course sections.
I'd printed and laminated three splits – the unlikely super awesome splits if I found energy I never knew I had, the likely medium splits I was aiming at, and the last ass splits that should get me across the finish line just before cut-off.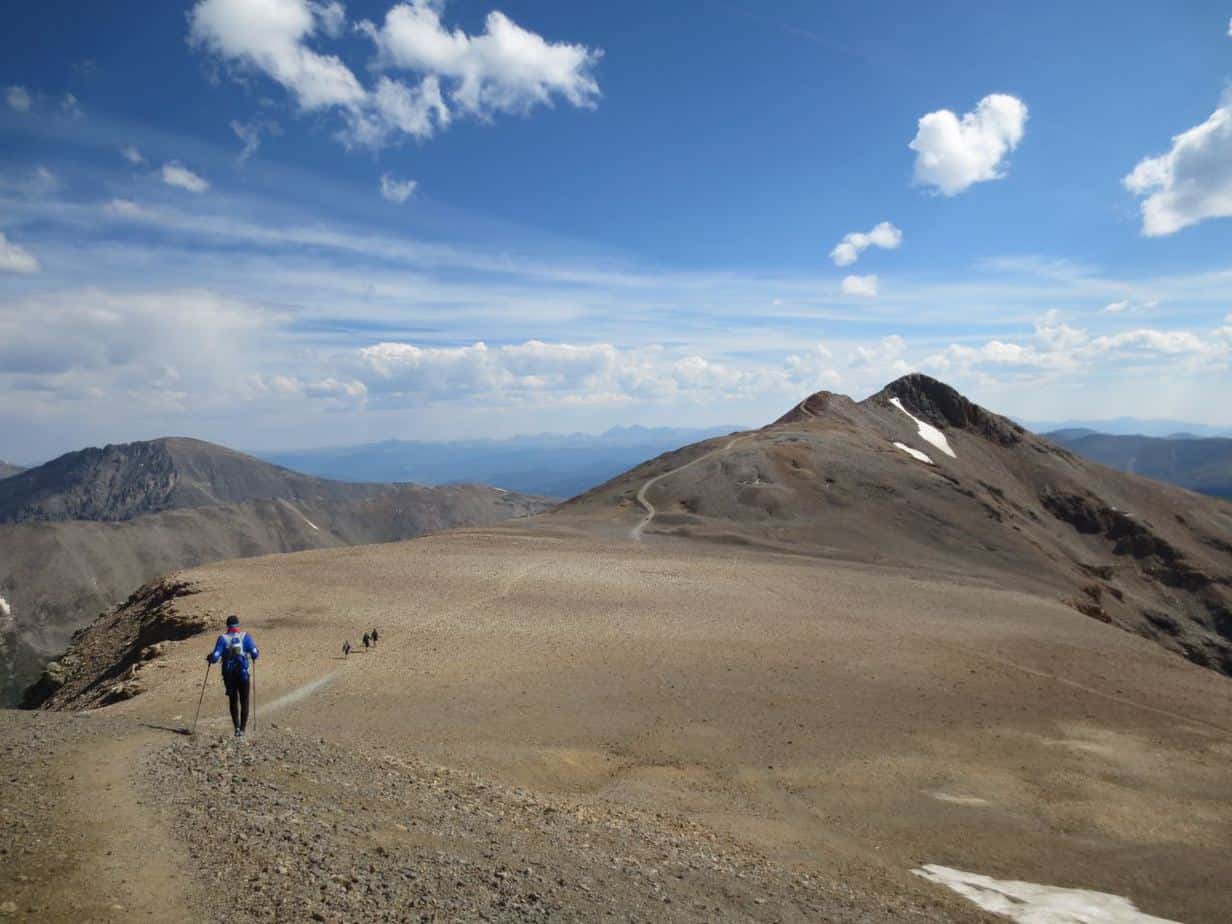 Everyone at the hostel was working to acclimatise as fast as they could. Five days before the race, Chris Calimaro, Dave Zangerle, Kelly Steele, Dennis Schueler and I headed out before sunrise to do four 14ers in a long day – the Mt. Democrat, Bross, Lincoln and Cameron route, more a chain of peaks than separate mountains. We had all done the 10k run the day before, and Chris Calimano, Kelly Steele and Dennis Schueler had successfully finished the 100 Mile MBT race two days earlier. For Dennis it had been his tenth finish, earning him a giant 1,000 Mile buckle and we were all very proud of him. As we climbed up the first mountain, the guys found a passport with several joints tucked inside, and were now enquiring with everyone we met whether they were missing such goods, making for a good conversation starter. It was a beautiful day and we celebrated each peak (and yes the owner of the goods was found).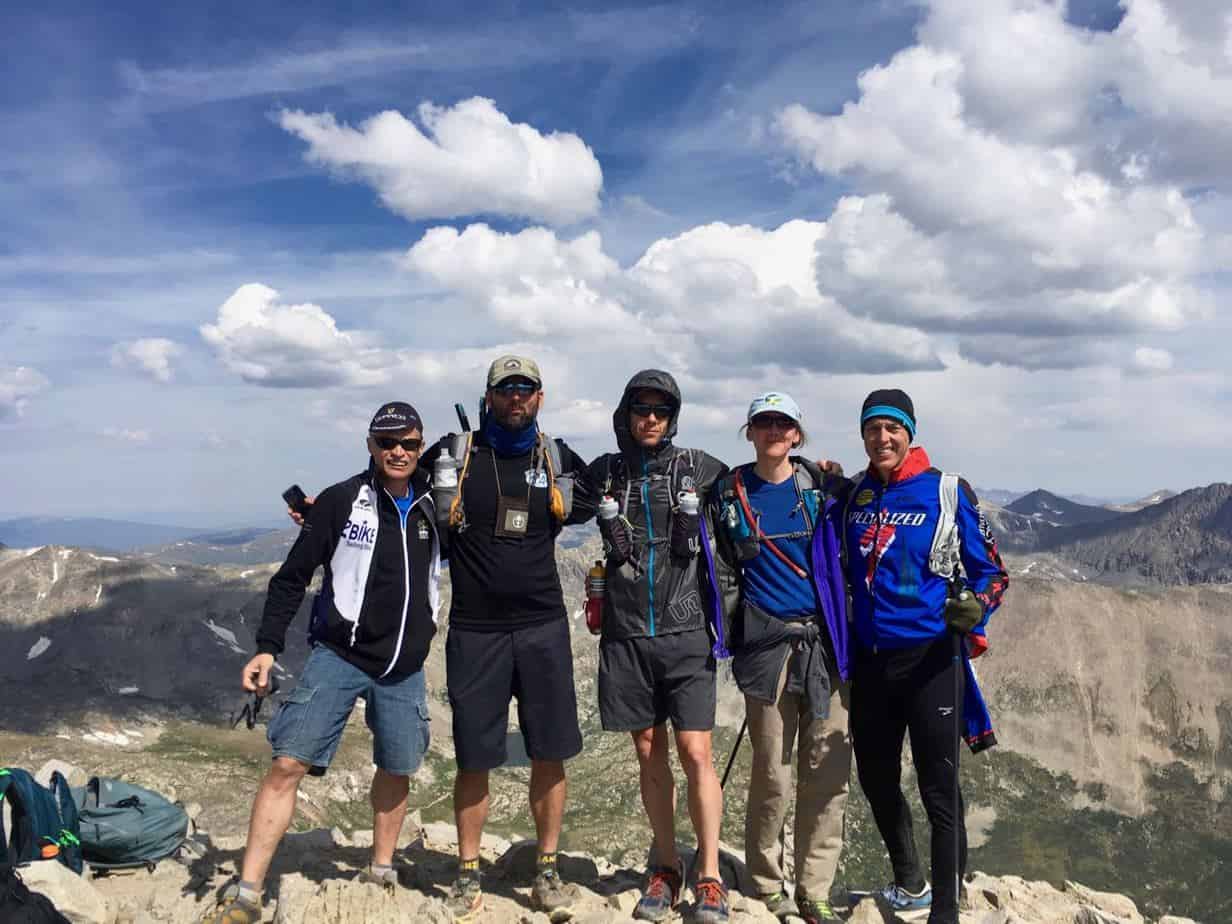 I tried to get a shot of the little picas running around, but they were too fast for my camera. On the way down from the last mountain, the weather started to grumble and we sped up to get below treeline before lightening set in. That was another thing I was worried about with the race – lightening on Hope Pass. The weather can change quickly in alpine areas and afternoon thunderstorms are common.
The Leadville Hostel was by now packed with runners, cyclists and outdoors sports lovers of all ages, and the sense of camaraderie was outstanding. There was 85-year-old Pappy, or more formally Victor Kubilius, who would go on long hikes every day and had cycled three months through Alaska in his 70s. Within days of arrival, I'd also met wonderful people such retired pharmacist Michael Hester, who'd been crewing for bikers and runners for years, spending all summer in Leadville and running the marathon or half-marathons. Michael drove me around the accessible parts of this out-and-back course, and suddenly we saw a shirtless guy with a big beard running very fast toward us. I grumbled to myself about all these runners trying to look like Rob Krar these days, until Michael pointed out that this was, in fact, Rob Krar.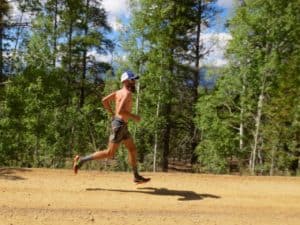 It was very exciting. If you don't know Rob Krar, look him up, he's amazing.
With Michael, my crew problem had been sorted. He was crewing for Leadman competitor Kelly Steele, and as Kelly and I had a similar target for the run, Michael would crew for me as well.
While neither crew nor pacers are mandatory at Leadville, and some people go without, I had found it tremendous help in the past. Crew can save previous time in aid stations by having drop bags ready and helping out, and the emotional support also gives me a huge boost. Most people have lows in ultras, and a good pacer can help keep you on track and see those course markers when you are too tired to spot them. For me it can also be very motivating to know a pacer is waiting for me, especially at night, as I want to keep my 'appointment' and be on time. At Leadville, a pacer over Hope Pass can be particularly helpful, as the race allows muling, i.e. your pacer can carry your pack for you.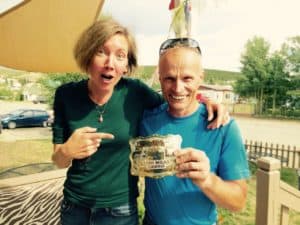 Fortunately, I got really lucky asking around at the Leadville Hostel, and Leadwoman Jen Kraxner offered to pace me over Hope Pass. The Leadman and Leadwoman challenge involves finishing the Leadville Trail Marathon, the Silver Rush 50 MTB or Run, the Leadville Trail 100 MTB, the 10k Run and finally the 100 Mile Run in one season, with the 100 Mile bike and run only being a week apart. Jen had done this together with her husband, Joe, on a tandem mountain bike for the 100-mile bike race. They finished the 100-mile run hand-in-hand. Both had come to Leadville for years doing various races in the series and helping others achieve their goals. Meanwhile, Cynthia Heady had a chat to one of the race series volunteers and found ultrarunner Juliette Schmidt, who was keen to gain experience on the course. She would pace the long overnight section from Twin Lakes to May Queen. And then Hardrock 100 finisher Megan Finnesy walked in the door to put up posters for her Dirty 30 race, and Jen Kraxner wouldn't let her leave before she had agreed to pace me from May Queen to the finish.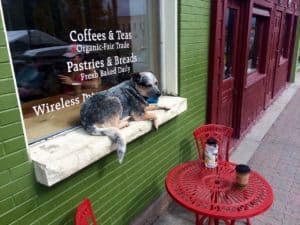 Then there was the organising of gear and drop bags. The weather forecast was good but I don't like changing compression pants with tired legs when it gets cold. My race outfit would therefore be long compression pants, toe socks, gaiters, a thin long-sleeve merino shirt, arm warmers, a very light windbreaker that folds up tiny for the early 4am start in the cold, and of course my multi-coloured running skirt. I would carry a tiny emergency light, whistle, the windbreaker, as well as a superlight rain jacket with me at all times. I had another headlight in the Twin Lakes drop bag for the night, and also gave one to Jen in case it became dark before we reached Twin Lakes inbound. There would be extra food and a selection of warm clothes, spare batteries, shoes and Bodyglide in drop bags along the course. Joe Kraxner lent me a small charger for my Garmin, so the watch would last the entire run. And finally my secret weapon: chilli liquorice, sent by running friend Steve Reagan from California.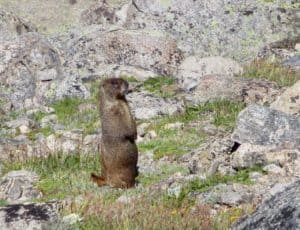 My job now was to mentally focus on the task at hand – to prepare for being out there all day and night with people who give everything they've got to something that earns them no money, no job status or anything else particularly worthwhile in the 'normal' world, but that is an experience so rich that it's never forgotten, in a natural environment that nourishes the soul. So when race founder Ken Chlouber got us all to stand up at the race briefing and shout: "I commit, I won't quit", I put my heart into it.
On the night before the race, I popped two sleeping pills and headed to bed at 6pm. My first 100 miler, the Bear, had taken me more than 33-and-a-half hours. I had been so nervous that I only slept one hour the night before, causing me to be in an interesting place mentally toward the end. I had kept thinking about frog liver pâté and desperately wanted to know whether my pacer had ever ridden on a deer. I had learned from that.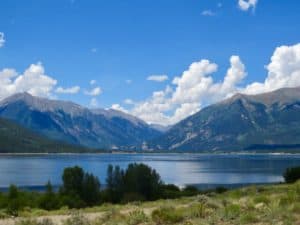 Leadville Hostel owner Cathy Hacking put on a huge breakfast at 2 am, and then we were finally toeing the start line at 4 am in the cold morning air – 100 miles with more than 5,500 metres elevation gain were ahead of us. Just about anything could happen in the next 30 hours, and only half of us would make it back here in time. I hoped I would be one of them. The sky was still dark, a drone was whirring overhead. I knew I needed to go out faster than usual to make the 22k to May Queen in 2h20 in line with my splits and, more importantly, to make it through Twin Lakes the second time by quarter past eight at night to have a good chance at finishing.
The next moment, the countdown started and we were off, a sea of bright lights in the dark as crowds of people cheered us on. Soon, the cheering got quieter and further away, and all that was left was the sound of feet hitting the ground. This was it, too late to change my mind, the only way was forward now. Be careful, don't trip in the dark.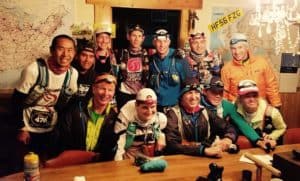 We reached Turquoise Lake and the darkness slowly changed to light as we ran along the water's edge. It was so magical this time of the morning. Adrenalin and excitement made moving easy and I reached May Queen in 2h16. Michael Hester, David Zangerle and others from the hostel were waiting for us with a big smile. It was just a quick stop and the next goal was 16 k to Outward Bound in 2h10, with the big climb up Sugarloaf Pass in between.
I powerwalked uphill and the section took me 15 minutes longer than planned. Was I already falling behind and had to resort to my last ass splits for the rest of the race? Fortunately, it might have been the split calculator, as the distances between some aid stations have slightly changed over the years. At Half Pipe, I was on schedule again. Despite making sure to eat and drink plenty, and taking salt, I managed to inexplicitly get lost after missing a very clear turn, but quickly got back on track. The course is very well marked and getting lost is quite an achievement.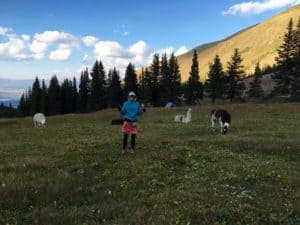 By the time I reached Twin Lakes I was all wrapped up in my own race and only focused on getting in and out as quickly as possible. I had two massive climbs ahead of me and needed to change shoes. So where was Michael with my drop bag? He wasn't there. Darn, where are people when you need them. I couldn't believe how I was doing this incredibly important thing and my crew just wasn't there. What was he doing? Napping? Having a beer? One of the volunteers got my drop bag instead. I changed, refilled food and was off again, 3 minutes behind my precious split. Down the road I ran into Michael, who unbeknownst to me had been too busy at a previous aid station to get there earlier. He greeted me warmly and asked what he could help me with. I responded, in what I thought was a light-hearted way, that having been there when I actually needed help would have been great, and headed off. But as I ran on I realised that what I had meant to be light-hearted had more likely come across as me being a dick to someone who was spending all day and night out here helping me complete a race I was choosing to do. I felt bad, but my tired head couldn't figure out how to fix.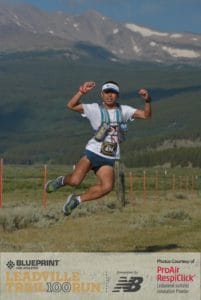 With Hope Pass now towering ahead of me, I was glad the weather was fine. I wouldn't be fried by lightening up the top, or miss my cut-off cowering below treeline. Thank you! After a gruelling climb up to 3,850 m, finally seeing those llamas was the best thing ever. The llamas are long-term supporters of the Leadville race, together with Vicky Foster and many others, of course.
I was more than 10 minutes behind my splits and had to work on my downhill running skills. And yippee, I made it down that mountain in 1h22 and was now slightly ahead of my target, having completed the first half in just under 12 hours. Jen Kraxner, the best pacer you could ever have, was waiting at Winfield, shouldering my pack as well as her own. I was over 80k into it now, and my legs could feel it. So Jen made me march up that mountain, setting a great pace, waved food at me on a regular basis, and told me how great I was doing even though I felt like I was going to collapse toward the top. That second climb was so much harder than the first and I started to worry that I was fading and wouldn't recover. As we reached Hopeless aid station inbound, more than 15 minutes behind schedule, Jen ran ahead and got me soup while I sat down to eat and look at the llamas. My body wouldn't have minded a snooze but there was no time, and on the downhill I started running again. It hurt, but I wanted to make it to Twin Lakes on time – I was wedded to the idea that if I could just get there by 20:15, I would finish.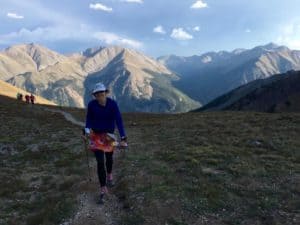 I had explained my Michael blunder to Jen and implored her to please explain to him that I was very sorry for my comment and extremely appreciative of his help. My own diplomacy skills would likely be too weak at Twin Lakes inbound after 100k. Once we had waded through Lake Creek, Jen ran ahead to get all my things ready. Everything was laid out, ready to go as I came into the aid station right on time. Michael gave me a big hug and many others from the hostel were there too, as well as Megan Finnesy and even Kelly, who'd sadly had to drop after knee problems. I was so glad to see them all. With that much help, changing out of my wet shoes and putting on warmer night gear took no time at all. My new pacer Juliette Schmidt was ready to go and off we went back into the forest, for the long hours through the night.
I was tired now, even my stomach was tired and eating wasn't easy. But my mind felt positive and focused. Bless those solid 8 hours of sleep the night before. I was walking a lot, then trotting, then back to walking, sucking on hard candy, and sometimes TUMS when my body no longer wanted the calories I needed. When things get hard, I find it helps to ignore other options, as pain is much easier to bear if you don't compare it to anything else. I would keep moving until I reached the finish line. And while you don't get a llama at the end, you do get a pretty cool buckle.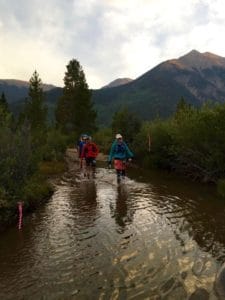 Juliette wasn't muling, but carried my extra food. This was her first time pacing and Jen had given her a quick run-down and we'd met to discuss the plan. She was great company and it was so good to have her. Energy levels went up and down, but we were moving well. At Half Pipe I had gained 10 minutes, and by the time we reached Outward Bound, I was half an hour ahead of my splits. Michael and a big crew from the hostel were at Outward Bound as we arrived after midnight, and provided all the help I could wish for. And I was nice and warm, having put on further merino wool layers.
Now came the climb up Powerline and I remembered another runner's advice: Just be aware that it's much longer than you think – beware the false summits. So I kept my head down, didn't look for any summits and just marched on until music and flashy lights greeted us at the unofficial aid station. I had been told this aid station offered hard liquor and a naked guy. I had been wondering how the naked guy would survive the freezing cold at night and was looking forward to him. Not as much as to the llamas, but still. No naked guy could be found, though, so I only filled up water and marched on, leaving Juliette to investigate the situation more closely.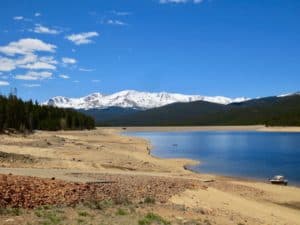 I started running again on the downhill, Juliette caught up with me, and by the time we arrived in May Queen at quarter past four in the morning, I was still more than half an hour ahead of my splits. Only Megan Finnesy couldn't be found. What to do? Juliette had to go, so after wandering about looking for Megan, I set off on my own. Had I been sick or disorientated, this would have been bad, but I felt alert. I even had a sudden boost of energy and started running on the flat to the lake, overtaking Chris Calimano and his pacer. Chris is a super-nice as well as super-fit guy who has completed the 4 Deserts series in one year. It involves running 250k each in the Sahara in Namibia, Gobi in China, Atacama in Chile and in Antarctica. Naturally, I had no desire to relinquish this hard-won lead, and "chased" further ahead. Then a guy easily caught up with me, crushing my illusion of speed. He turned out to be someone kindly offering to pace me after learning that Megan hadn't shown. Now this guy could help me stay ahead of Chris!
We were making our way around the lake when someone came running towards us through the woods. Megan!
After realising she had missed me at May Queen,  she had driven around the lake to catch me from the other side. Now I had two pacers, which isn't allowed in the race, so one had to go. I felt sorry for the guy who had been great company, but Meghan had driven up quite a way to support, so Megan and I headed on, and she told me about her time at Hardrock. It was light now, we got to the road, and of course it had become a never-ending road since the previous morning. The same distance that took me 2h16 on the way out now took me 3h45, but, my God, it was clear now that I was going to finish Leadville. That felt amazing. I'd read about this race in Born to Run, marvelled at Ann Trason's course record, worried endlessly that I would fail, but here I was, getting there, and feeling indescribably happy. Closer to town we saw Michael, who cheered us, and I wished I could adopt him as a family member in that moment.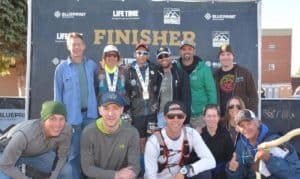 As we got close to the finish line, I ran the last metres uphill and made it in 28:03 as the 165th out of 340 overall finishers that year, beating my target by nearly 45 minutes. There were well-earned hugs from my fantastic pacers and new friends and fellow runners from the hostel, and a finisher medal, necklace and red rose from Ken Chlouber and Merilee Maupin.
For a while I sat and cheered the other finishers on, including Chris, who successfully finished his Leadman challenge with this race. I drank some hot chocolate, but was unable to eat. Walking was also out of the question by now, so friends from the hostel picked me up by car and brought me back. I couldn't eat all day. Sitting next to Chris at the finisher's ceremony, we were laughing at our nauseousness, hoping we wouldn't suddenly puke when receiving our treasured buckles. Luckily, both of us managed to hang on to our stomach contents, and by evening food started to look good again. After dinner we all rested up on the giant couch in front of the TV, eating ice cream out of the tub, and dozing off happily spoon in hand.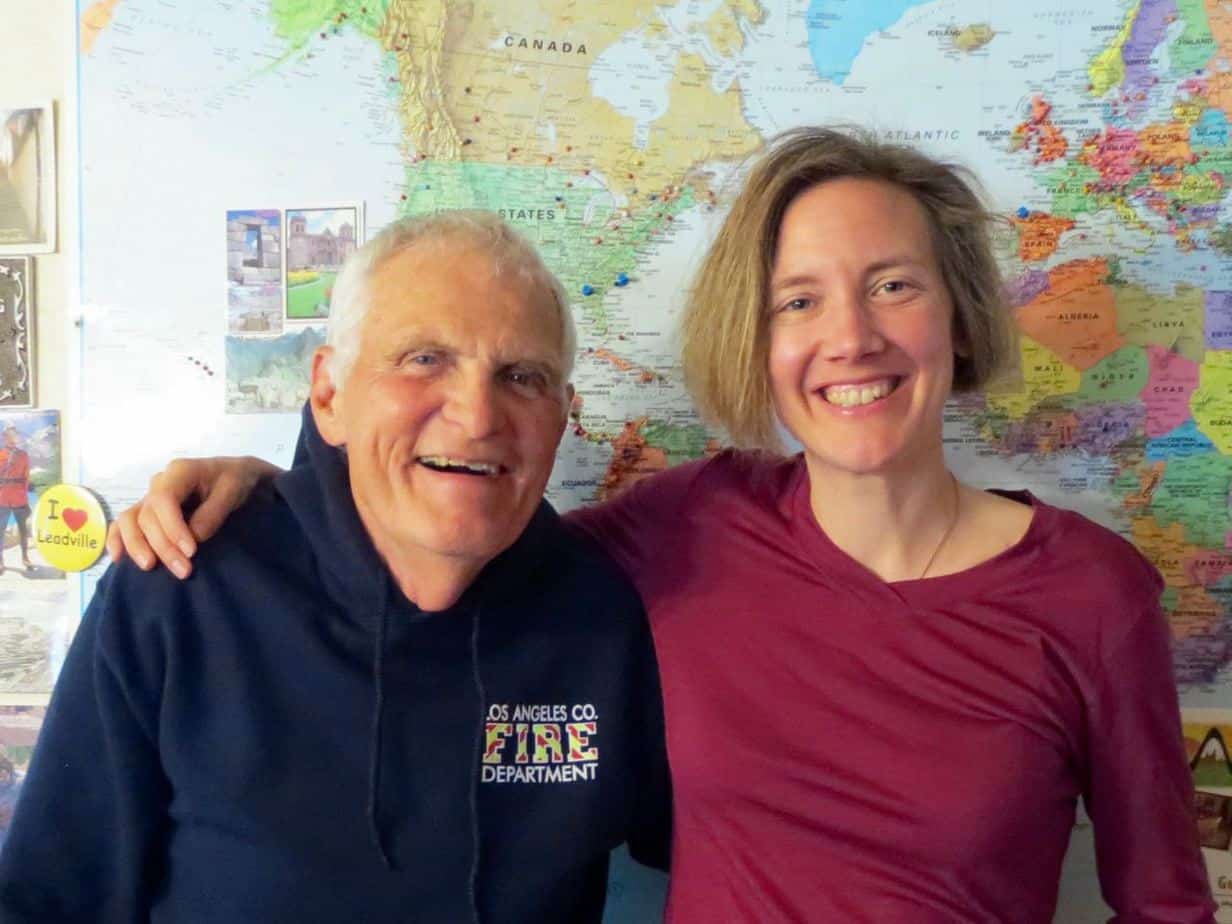 A few days later, I bought Michael some beers he likes. As we were sitting on the porch, looking over the mountains, reminiscing and sipping Blue Moon, I thought that Leadville was the kind of place I'd always like to come back to.
Leadville 100 quick facts  (latest information on the race website):
Course records:
Matt Carpenter 15:42:59 (2005)
Ann Trason 18:06:24 (1994)
Course type: Out and back
Cut-off: 30 hours
Elevation gain: 5,538 metres (18,168 feet)
Highest point: 3,850 m
Surface: Mostly forest trails, dirt roads and short stretches of asphalt
Finishing Leadville! Video by Joe Kraxner: