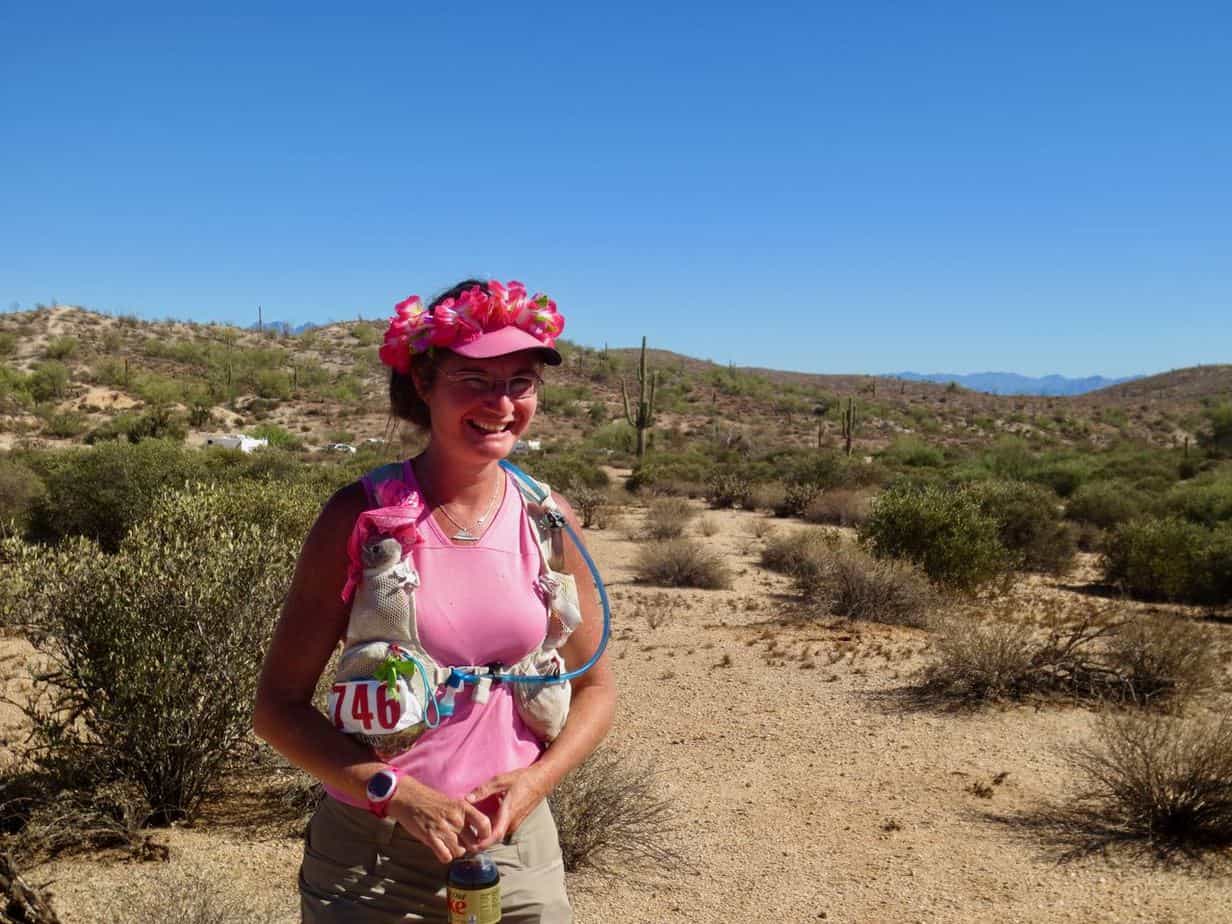 You wouldn't think gruelling 100 Mile foot races like Western States, Leadville or Wasatch through remote wilderness and in high altitude are for people who are easily scared. Well, one trail runner who's scared of more things than anyone else I've ever met in the sport – with threatening scenarios involving anything from grizzlies to serial killers – has not only done all of those iconic 100s, but also Badwater – a 135 mile race through America's Death Valley.
Listen to the podcast
For Tammy Massie, fear is just a reason to figure out ways to mitigate potential danger. Mostly wearing pink on the trails, with a few flowers and stuffed toys mixed in, Tammy can also be found sporting bright snake-proof gators. Yes, she says, they are a bit hot on a sunny day, but better than getting bitten by a rattlesnake. Tammy also has pepper spray to deter the potential wayward cougar, and carries an emergency beacon so in case she falls off a mountain, she says, her family can find her body. She's also slightly worried about serial killers, saying that if someone would nab you in a race, no one would probably notice for some time with so many runners about. So in that way, Tammy is probably the most courageous runner I've ever met. If I were scared of so many things while out on the trails, I wouldn't be running ultras or any trails for that matter.
However, there is a lot more about Tammy that shows her courage. Her toughest race though wasn't Badwater, or Wasatch. It was the comparatively flat Vermont 100. At some stage, she found herself sitting on a log, sobbing, and about to miss the cut off at the next aid station. Her mother had become terminally ill earlier that year, and suffering a stroke months before the race. Whenever Tammy had been going out for a training run she would end up crying after a mile. But running was also an important part of the grieving process.
"I think running helped me. It was a little bit grounding. My mum was my cross-country coach. It was emotionally very sad but I was doing something I could reminisce about spending time with her. I think with ultrarunning there is that part of you where you learn what you're made of, how strong you are, and what adversarial things you can handle and face."
And what she is made of got her back on her feet at Vermont. "I harnessed my inner self and said, you know what, my mum wouldn't want me to be sobbing, she'd want me to be out there finishing the race and making her proud. So then I started running pretty strongly." So strongly in fact that her pacer couldn't keep up and she beat the cutoffs. "I was dead last female." But she made it.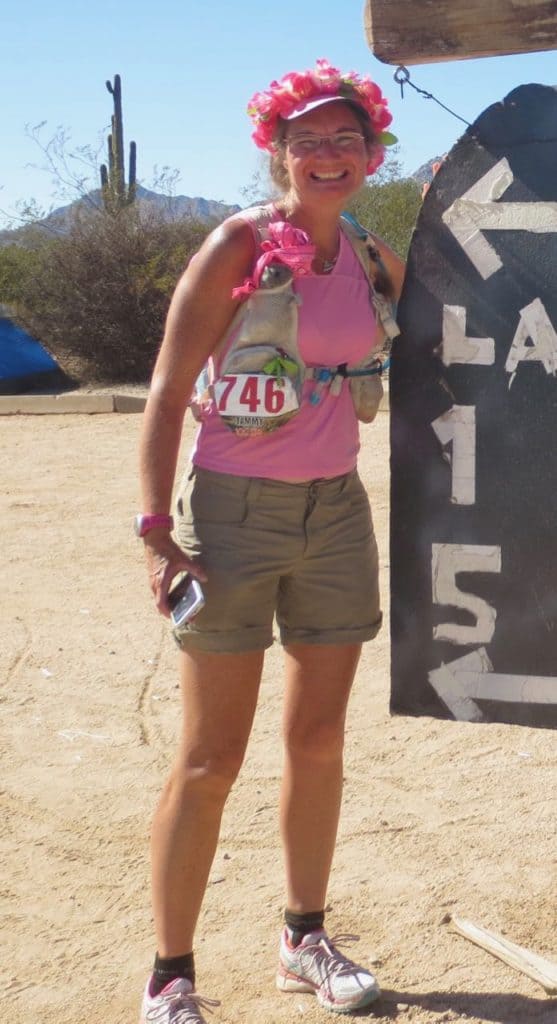 There are still plenty of races that are rough. "There are times where I find it very hard to struggle through, where I just have to put one step in front of the other." One thing that helps is her sense of pink trail fashion. "Wearing all pink with flowers and sparkles doesn't go with being grumpy," Tammy reckons. And then, it's her sense of gratitude that gets her through.
"What I find helpful is to appreciate the views, appreciate the journey, appreciate the other runners on the course and chat with them and use their energy and give them energy. You're all in this together. If you appreciate everything you see, you see the flowers, you see the sunrise, the stars, it really makes it all worthwhile, because you known what, if you weren't out there, you'd be seeing the inside of a pillow."
And over time, her body has been recovering increasingly well, especially compared to the early days when getting up or down stairs after a race seemed impossible. "I don't think to myself, man, I'd pay somebody a million dollars to carry me down. I think I'd pay someone a buck to carry me down, so my economy of scale has changed dramatically," she laughs.
In addition to having done about twenty 100 Milers, Tammy has also completed the notorious Badwater race from the lowest point in the continent to, in the old days, Mt Whitney, although the last big climb is no longer included. The race is held during the hottest time of the year in July. "The year I did it, it was about 125 degree Fahrenheit, that's about 50 C during the hot part of the day." Right by her feet on the road, temperatures were closer to boiling. "My feet were just burning up during the first about 50 miles of that race." Runners diligently run on the white side strip of the road to avoid the even worse temperatures on the black asphalt. But that's all part of it, Tammy says. "By the time I got into Badwater I knew it was an honour and privilege and expected crazy things to happen, you've just got to roll with it. It's not like you can make it colder or warmer or whatever, it's weather."
To prepare, she had spent an hour in the sauna five days a week over four weeks. "I would sit there and read paperback books, the glue that held the pages together would completely disassemble." On race day, she wore a white outfit and ice bandanas. "I knew the race would take me close to 48 hours and if you get burned on the first day, then you have to run the second day with a blistering sunburn."
Her heat training had gone so well that she was shivering in normal temperatures. Although her crew had an ice bath ready for use, Tammy didn't use it. And she didn't even stay in the air-conditioned van for long, as she'd start feeling too cold.
Still, the question for many people would be why? Why run 135 miles in boiling heat, why go through all that effort and pain and difficulty? "I was doing it to see how far I could go. You never know what you can do until you put one step in front of the other or go out and set some goal and try to do your hardest."
"Once you accomplish it, nobody can ever take it away. Physical possessions people can steal or destroy or you can lose, but this sense of accomplishment, that pride. To be allowed to participate in this very high intensive endurance event that 40 years ago women wouldn't have been able to do, a 100 year ago you definitely wouldn't have been able to do. From my perspective I was trying to make America proud, or make womankind proud and then make myself proud and see what I can really do."
At a particularly difficult stretch after she'd already been on her feet for 100 miles, famous ultramarathoner and mountaineer Marshall Ulrich passed her. "He's like Yoda, he knows everything. He was like – just keep moving forward, you can do it." And even though that doesn't sound very specific, it worked.
"I thought about how many people had supported me as my running career had taken off and all the different people I interacted with during races and on training runs, co-workers and friends, how they all believed in me, and if they believed in me I should believe in myself."