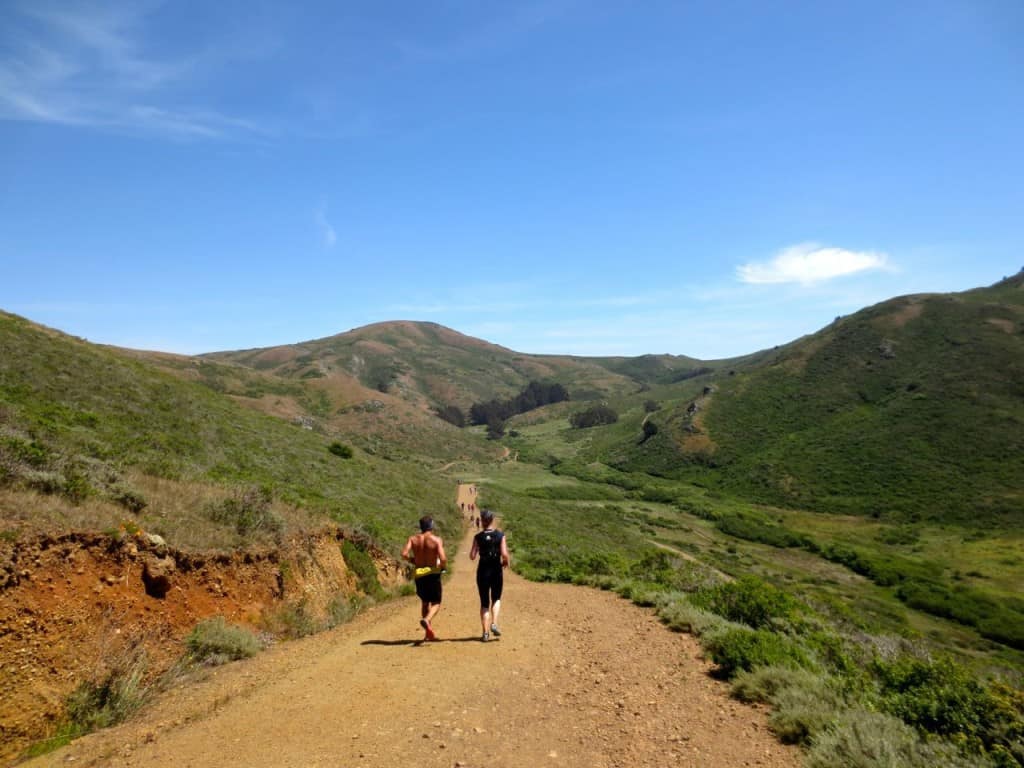 Non-runners sometimes critically tell me that runners miss the view, that they should "stop and smell the roses". I do, in my training runs. I do picnic runs, literally, trotting along with self-baked banana bread in my pack and taking 11 hours for my favourite 48k run, enjoying the wildlife, the flowers and trees, and stopping to listen to the lyrebirds or water gurgling in a nearby creek.
At the Miwok 100k Trail Run in California's Marine Headlands near San Francisco, however, I had to hurry up, as the cut-off was 15:30. After all my slow training, I didn't know if would manage and am glad I didn't check the cut-off earlier. I might not have attempted it otherwise.
When I applied, I hadn't been running for months, since the UTMB CCC, and was dealing with some health issues. Then a running friend came to the rescue, more accidentally than planned – Steve Reagan. Steve frequently struggles with injuries that keep him from running but not from talking everyone he meets into trying for more than they think they can achieve.
I bumped into Steve in 2008 in Mongolia at a trail race. I had signed up to the 42k version, as I'd only ever done one road marathon before and wanted to try my first trail race. Steve, as he was sitting there in his Western States 100 Mile finisher t-shirt, was the sort of guy who could make any trail adventure, no matter how mad, sound so sensible that you really started wondering why on earth you ever thought it was a weird idea. The day before the race, Steve explained to me that if I signed up for the also offered 100k distance, I would be allowed to continue beyond 42k and see how far I could go while still getting my 42 finisher shirt (terribly important). However, if I remained with the 42k distance, I would not be allowed to continue for insurance purposes. "You've already done 42k, now you can see if you can perhaps get a little further, 45k, 50k?" That makes sense, right? Try something new. I switched to the 100k and finished – in first place. Not with a winning time, it took me 17 hours, but there were only three women and one dropped out due to injury. Not a bad introduction to trying something that previously seemed impossible.
Late last year then, Steve contacted me to alert me of an approaching deadline to enter the Miwok 100k lottery, an outstandingly picturesque and hilly trail race with views of the Golden Gate Bridge. I got in and couldn't believe my luck. It gave me a massive boost and a newfound excitement for (slow) running.
In his element, Steve then also talked me into signing up for the Western States training camp. Given that the chance of getting into the actual race via lottery is about 5% at first try, the training camp is a great way to experience much of those beautiful trails over three days of fun out in beautiful wilderness – including aid stations, bus transport to the start and lots of great people.
Further, Steve also got me in touch with his friend Erika French-Arnold, who was so generous to organise a pacer for Miwok for me, Sean McPherson. Well, all this was too good an opportunity to pass up and I booked my flights.
And then I realised that the overall cut-off at Miwok was 15:30. Whoops.
My last two 100k races, the NorthFace 100 in Australia and the Mont Blanc CCC in Europe had taken me nearly 19 hours and over 25 hours respectively, and even my fastest time of 17 hours in Mongolia I'd have to improve by 1.5 hours. I had two options – either go at my usual slow pace and miss the cut-off (not good) or go at a much faster pace and blow up later (also not good). But I had over three months. What would happen if I trained more, joined some speed session with UpCoaching in the Blue Mountains and give it a shot?
I started doing two back-to-back slow, long runs and one half hour speed session a week, plus swimming. Then I worked out splits to have short-term goals during the race and loaded a playlist onto an iPod engraved with "no pain, no cake" – a gift from my German friend and Ironman finisher Manuel Hartl.
Come race day, I indeed didn't stop to smell the wildflowers, take photos or sit down to munch banana bread. And although I remember some of the stunning views along the coast and the great volunteers, much of the day went by in a blur.
But that doesn't mean having any less of an experience.
Sometimes when traveling with family as a kid, I got so attached to a beautiful landscape that I didn't want to leave. I'd stand at my favourite spot and breath deeply, imagining the oxygen that had touched everything in the area entering my lungs and cells, and become part of me. I thought I would never have to feel separate from a place that was dear to me, because we'd had shared the same air.
I feel like that at times when I run. I might not remember all I see, but those are only the conscious memories. When the last bit of energy leaves me but I keep going, it feels as if I reenergize from the environment around me and start to feel part of it. It's a good feeling. I'm not missing anything running – I'm experiencing it in a different way.
I was glad to experience a day where every single runner who overtook me, whom I overtook or who was coming the other way, exchanged either: Well done, good job, or great work! On what other occasion to you get to hear and say that all day long?
I was glad to see my friend Steve I hadn't seen in person for eight years at several aid stations, to give me a hug and encourage me on and wait for me at the finish line. He looked after me when my body had realised the race was over and didn't feel like moving anymore and made sure I washed any potential poison oak off me that is prevalent on parts of the trail. I was grateful for the smiles and encouragement from the aid station volunteers, and I was so happy to experience having a pacer for the first time, Sean McPherson, whom I'd never met before and who still made the journey to the race to support someone he didn't know. And what difference it made to have him with me the last 20k, to run together and know he was there to help me keep moving and finish. And we are all so lucky to be healthy and strong enough to do this.
Taking deep breaths on such days gives much more than stopping to smell the roses. It feels like a condensed form of the highs and lows of life, and how to get through them with the help of nature, friends and connection, and with a sense of gratitude for everyone out there – be it those running, volunteering, crewing, organising the race or making it all happen in some other way.
The health issues had resolved and I needed only little recovery after finishing Miwok in 14 hours and 12 minutes.
Sometimes it's good to train less, take care of injuries, and take a rest. But sometimes, doing what one loves is healthier than to keep shrinking in the face of whatever seems to drag one down. Staying healthy is what counts, and whatever supports health is different from person to person.